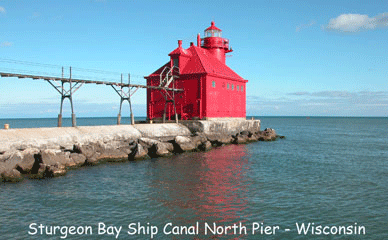 Welcome to TheLighthouseHunters.com

We are Christine and Tommy Cardaci, The Lighthouse Hunters. We have photographed 1,378 lighthouses in the United States and Canada. Our lighthouse site has pages for each of the 31 states and the several provinces that have lighthouses. From 2011-2015 we posted over 102 additional individual lighthouse pages devoted to each light in North America (USA and Canada). We're adding thousands of our lighthouse photos, GPS coordinates, information, Google maps, hundreds of links, sunsets, boats & freighters, bridges, clouds, marine life, fellow hunters, nautical, our journeys, state & province signs, and animated state & province flags.
Check out much more here in 2015.

Please come back often to see our progress. This will be the site to use for all your lighthouse hunting adventure planning. Don't forget to sign our guest book.

All the photographs in this site were taken by us and are for sale. Several sizes are offered as well as our travel book, Lighthouses and Lightships of America--The Hunters Guide.


The Lighthouse Hunters have traveled the coasts of North America taking pictures of lighthouses. We have photographed almost all of the United States lighthouses and half of the Canadian lighthouses. Dozens of times we've been up and down the East Coast, the Great Lakes, the West Coast including Alaska and Hawaii, and even Lake Champlain. We've only been on the Gulf Coast a few times. We also love the lighthouses of the Canadian Provinces of British Columbia, Ontario, Quebec, New Brunswick, Nova Scotia, and Prince Edward Island. One year we hope to see the lighthouses of Newfoundland and Labrador, Alberta, Manitoba and Saskatchewan. Tommy and I have hiked hundreds of miles over the years. We've been on so many private boat and plane charters, lighthouses cruises, countless ferries, zodiacs, and even kayaks. Learn about our adventures and how we were able to photograph each lighthouse. Use our lighthouse links to find that special cruise, charter captain or tour. Please let us know if you like our site.
All photos contained in this site, © Copyright 1997- by The Lighthouse Hunters - Christine & Tom Cardaci.
Images and text may not be used from this website without written permission. Contact Us for more information.

Hosted By